By Matt Kock


What is being tech-savvy? Being tech-savvy is not always about having the newest technology. It doesn't mean that you are constantly downloading every new App that comes to the store. Cambridge Dictionary describes it as, "knowing a lot about modern technology, especially computers." I feel the best way for teachers to be tech-savvy is to get comfortable with the technology they have and learn to use it to enhance the learning that happens in their classroom. Class Dojo, helps me feel tech-savvy and is one of the Apps that I found to be very useful in my classroom. Class Dojo is one of the more important discoveries I have made during the time of 1 to 1 technology in our district. I believe it can be your first step on the road to being tech-savvy.
Class Dojo is an application rooted in classroom management, but over time it has been developed into so much more. I have been using it for several years and it has become a very integral part of my classroom management plan and communication with my families.

You must set up your class in one of three ways; email invite from a teacher, students scan a QR code, or you invite parents to participate to set up the accounts, and then have kids enter a code. With a little front-end work, I have all of my parents and students connected to my class on Dojo.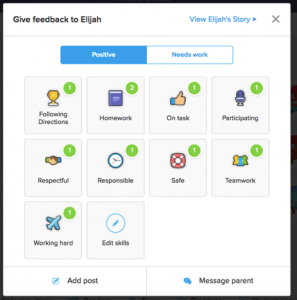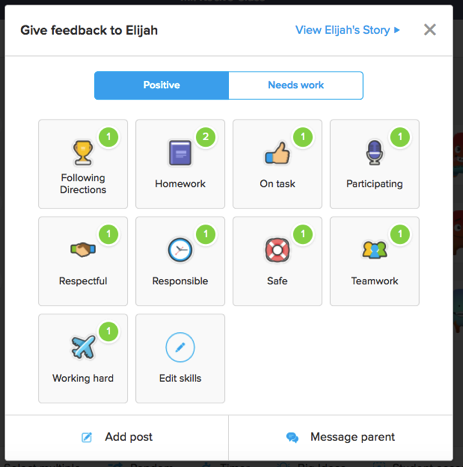 The main component of Class Dojo is the positive reinforcement and classroom management. In the classroom, you award or take away points from students based on a set of behaviors and point values that you can edit. There is also a default set of behaviors you can use. The useful part about the points is that if your students and parents are connected then they will get real-time updates whenever you add or subtract a point. You can also make comments if you feel an explanation is necessary when you score. Again, the behaviors and the points are completely editable.
Another piece that I use frequently is the message component. You can send messages through the app to the whole class, all parents, or to individual students or parents. They, in turn, can send messages back to you through the app. This has been great for communication since I can react to any points or behaviors immediately and easily message parents to let them know what is going on.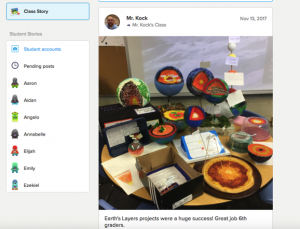 One of the newest additions is the Class Story. Teachers can post student work and the whole class and parents can view. Additionally, in Student Story, students post and only they and their parents can view. Students can take pictures and videos within the app or they can upload from their own devices.
Are you ready to get tech-savvy? Does this seem like something you would like to learn more about, or even try? Use the links below to watch, read, and/or listen to what Class Dojo has to say. Good Luck!
Resources
Welcome to Class Dojo .pdf Presentation
Class Dojo video Intro for Students
Getting Started for Teachers .pdf