Biggest. NETA. Ever.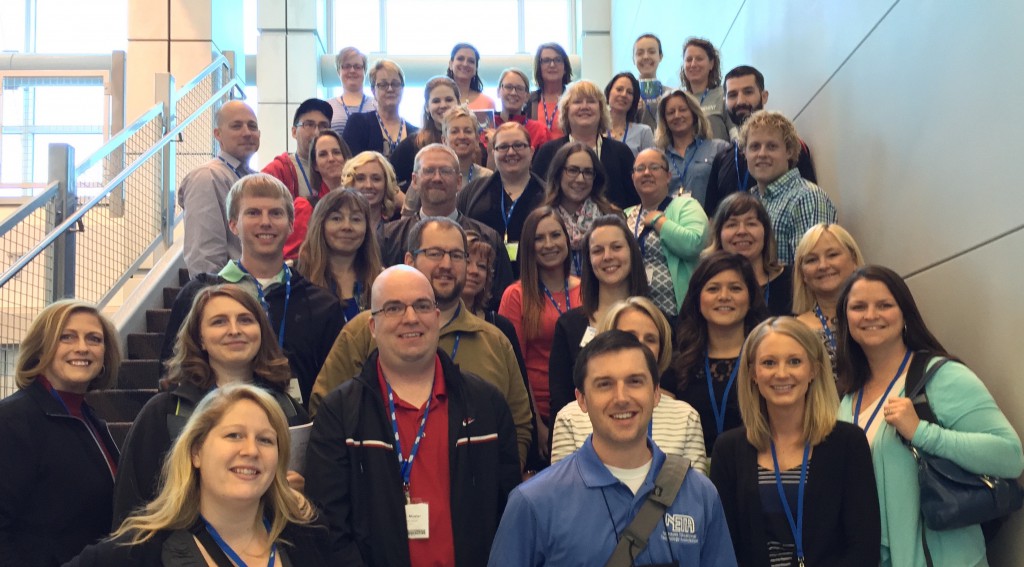 Wow. Isn't it amazing how NETA has grown? In my first year teaching I attended NETA. Back then it was held at the Holiday Inn convention center on 72nd street. The next year it was moved to the La Vista Convention center. La Vista was great, but NETA soon out grew even that brand new space. This year was the first year in our new space – Century Link Center in downtown Omaha. The added space came at a fortunate time. Attendance was the highest that it has ever been with over 2,800 people experiencing incredible venders, keynotes and breakout sessions.
While the new building and the massive crowd were awesome, my biggest takeaway from this year's NETA was the inspirational Keynote on Friday from George Couros. Mr. Couros is a principal from Alberta, Canada. His keynote made you laugh, cry and reflect all at the same time. You left feeling that technology has the power to enhance the human condition by connecting people and creating outlets for creativity.

Follow Along on Twitter
Twitter remained a popular medium for teachers to connect and share during the conference. The #NETA15 was used and you can still search for it and find great resources. This year, over 11,000 tweets were posted. If you haven't yet started to use Twitter, you should consider it. It's more than just sharing what you ate for breakfast – it's a incredible tool!
Sign up at http://www.twitter.com
Once you sign up, you should start following people. Tweets from people who you follow will show up in your timeline. Check out my list of Westside teachers and staff by visiting:
https://twitter.com/leematt06/lists/wcs
and
https://twitter.com/leematt06/lists/wcs/members
Once you sign up, be sure to let me know so I can add you to the list! Happy Tweeting!
-Matt
Reflections from Elementary Teachers
Alex King:
I had the opportunity to listen to a few sessions on AR (Augmented Reality). This has been something that I am very passionate about. The idea of bringing something 2D to life, has the effect to engage students while learning. One of the speakers Leslie Fisher showed a great amount of resources that students can use to learn using AR. This is something we are seeing in the world around us, that not many people know about. There is an app called Blipper that does advertising using AR on things like Movie Poster, Ketchup, Pepsi, and Ceral Boxes to name a few. A few speakers had talked about textbook publishers including this into new editions of textbooks. Learning will come to life and students will be more engaged with our textbooks.
There are so many apps out there that you can use in your classroom with what you are teaching. Here are a few I found most useful.
AR Flashcards. Animals, Shape, Space- Flashcards for children learning about these things.
Anatomy 4D-Brings the body to life.
Arloon Anatomy
Elements 4D-Brings each element to life in a box.
Here is the link with lots of examples of where this technology is implemented and how we can use it in our classroom.
http://www.lesliefisher.com/handouts/augment_fisher.pdf
Alli Pontious
This year at NETA, I gained several new ideas for this upcoming school year. It was nice to visit several different sessions that were geared towards my grade level and my interests. My favorite session was, Bloom into Storytelling. This session opened my eyes to several new ideas that I can use in Writer's Workshop, Science, and Social Studies next year. I also started using graphite.com as a resource to find apps for different subject areas in different grade levels. My goal next year is to introduce a new app or a new resource tool each month that teachers can use in their classrooms. I will also be partnering with my librarian again next year to introduce several new apps and programs to my students. One in particular will be Biblionasium. This is a social network that will connect kids to other kids, parents, and educators to one another. It is a support for reading. Our district goal is to have everyone reading on grade level by fourth grade, so what better way to promote reading than with this cool tool! I plan on using it in my school along with partnering with another school in the district. I definitely enjoyed NETA this year and can't wait to see what my students next year can do with all the new tools I have learned. Thank you for giving me this wonderful opportunity!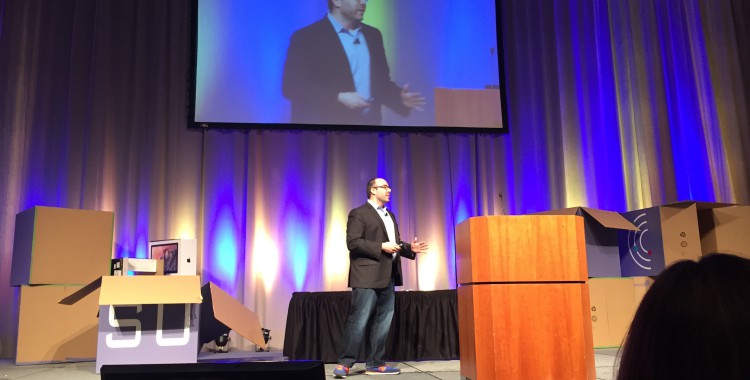 Dustin Carlson
Adam Bellow, the keynote speaker on Thursday spoke a lot of truth about education and technology and how innovation can be scary, but someone has to take the leap. Without trial, there will not be success. He proved this even through his attempt to get a drone to fly that he used the Tickle app to program. At first it failed, but on second attempt, the drone took flight across the room. Adam offered a lot of uplifting examples where technology has placed us beyond the 21st century. A huge example was how groups of college students have been organizing 3-D prints of limbs to send to 3rd world countries to people that are in great need.
The break-out and poster sessions provided some new ideas that I can implement right away. After seeing the possibilities of Osmo, an award winning gaming system for the iPad, I emailed a parent of one of my current students that I knew would love undertaking a system like this because of what I same him creating in our Art and Science Center. She immediately emailed me back letting me know that she'd check into it for her son. I also learned of apps like The Lego Movie app that helps students create videos! I will be exploring this app for my students because they have been obsessed with creating iMovies both for personal entertainment and to display classroom research. I have a running list of apps to try in my classroom right away and a list of tech tools that I hope to include in my room as funding becomes available.
Erica Riffner
Augmented Reality takes places, locations and materials and adds an additional dimension of content and learning that has never been experienced before. Kids can find Augmented Reality in books like Guinness Record Book 2013, 2014, 2015, magazine issues, ketchup bottles, cereal boxes, etc. So why not bring it in the classroom? Using free apps like Aurasma, Bilppar, Augment, Arloon, Daqri, ZooBurst, Fetch! Lunch Rush!,  etc will help you. You can bring word walls, vocabulary, worksheets or any image to life. I can't wait to try some of these out!
April Bridwell
Leslie Fisher was a featured presenter that I found to have a plethora of ideas and knowledge about websites and applications that can be utilized effectively in classrooms. The following are some of them that I plan to use for class review for assessments, OR even as assessments
Kahoot.It (Awesome)
Quizizz
Plickers
EdPuzzle.com (free) – Allows you to link to youtube.com and to stop at certain parts to add voice, add questions, (at the same time as watching!) Interactive with the video
GoFormative – Take a pdf and make additional changes. Then students complete the worksheet/ quiz/etc. by answering, drawing, and selecting.
Jenny Henningsen
Organizing resources for educators to help support them in the classroom is a goal that I have. EY has created a symballo for general use, but there is so much more that we can do with this. It would be so much better if I was to have it organized by topic and or grade level.
Meaningful web resources for a grade 3 child are are not necessarily meaningful for a grade 6 child. This would be such an easy project that would make a hug impact for the kids using ipads.
Such an amazing day
This write up does not begin to tell you about all that I learned, but I was thinking that you just wanted an exaple of a practical application from the day? Thank you for the opportunity
Joan Skaggs
As a NETA newbie I was looking forward to exploring new tech tools, gathering new ideas to bring back to my buildings, and soaking up everything I could on the technology front.  NETA15 did not disappoint (except not winning the Apple Watch…slight disappointment there).  It exceeded my expectations in providing new ways to look at tools I am already using (Google Docs for student collaboration across buildings as an example).  I was bit by the Twitter bug and now share and learn from educators and experts in the field.  I gathered ideas on how to better facilitate independent learning projects as well.  The keynote speakers provided a much needed dose of inspiration that I feel we all need from time to time.  And finally, a significant takeaway and reoccurring theme that has stuck with me since walking out the CenturyLink doors, "Take the risk, try something new…It's okay to fail in the name of learning!"
Michelle Kopecky
For my reflection, I put together a Keynote that I shared with the Oakdale staff. Click Here to View It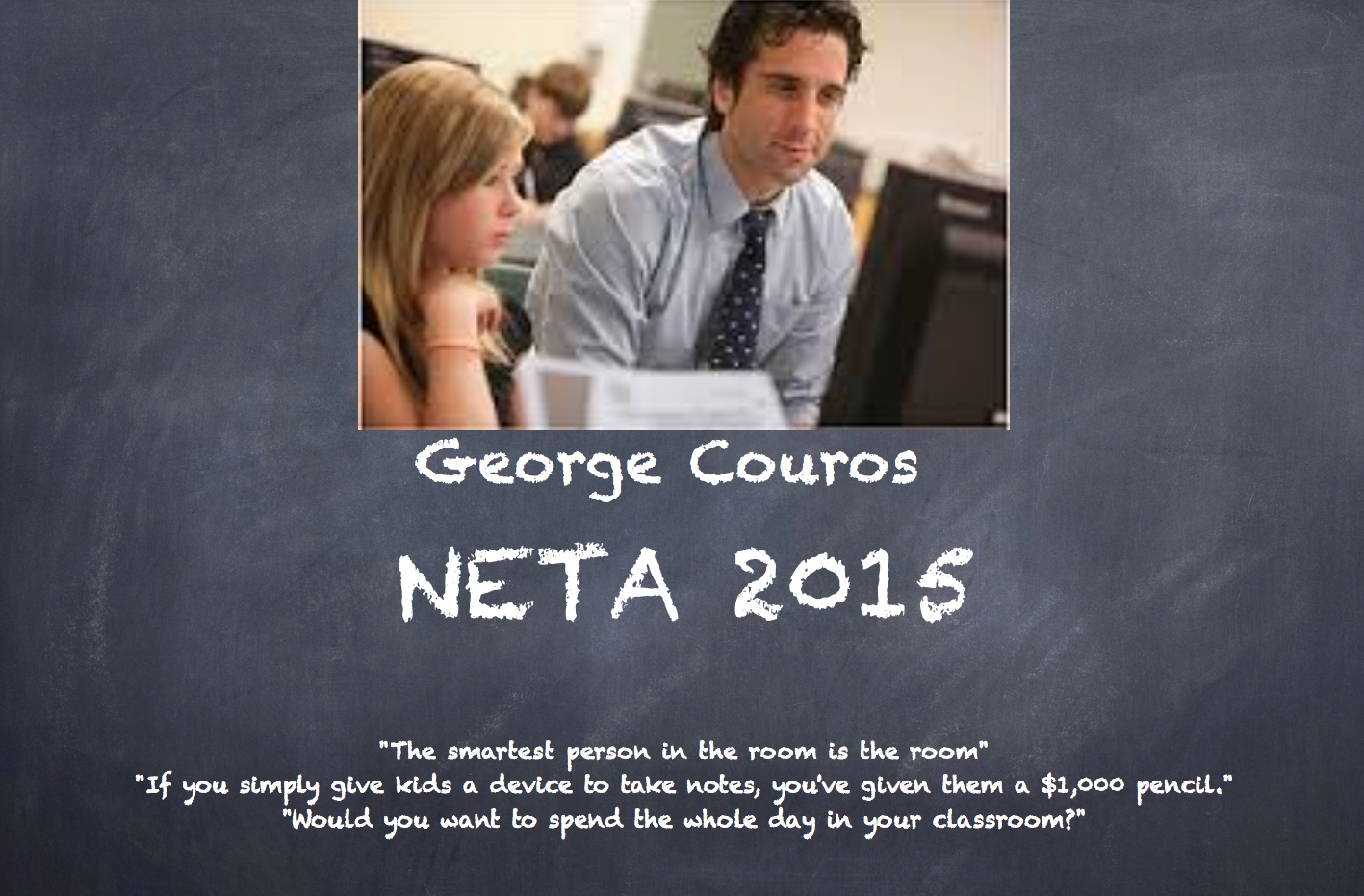 Matt Kock
Live your life in Beta? Keep reissuing yourself as a better version of you.
As I reflect on my first morning of presentations this statement from our keynote Speaker, Adam Bellow, really stands tall. I went to to two presentations following the keynote address from Adam Bellow and I already have more ideas, apps, websites, and leads than one person could follow in a months worth of work days.
Evernote: I went to this presentation to learn a little more about an app that I thought I was familiar with since I had been using it sporadically for a couple of years. Man, there is a lot I don't know yet. This note taking tool has a lot of possibilities. The things that attracted me to it initially was that I could take notes one any device and they would sync to all my devices.
Here are a couple of highlights from the presentation:
Evernote Web Clipper: This is a download from the evernote.com site. It adds a button to your web browser that will clip the webpage you are visiting and save it to a notebook of your choice in Evernote.
Evernote Clearly: You can find this app by searching for it. It also places an icon on your web browser. Clicking this while viewing a webpage will reopen the page but without the adds, allowing you to see only the typed article or story. You may then save this to your folders in Evernote.


George Couros was the Friday AM keynote speaker. He was very powerful. I laughed, cried, and had some very thoughtful moments as I listened to him wax poetic about teaching, teachers, and kids.
After his keynote speech I followed him to the next room and listened to him talk about digital footprints. Here is the link to the google doc that he presented from;
https://docs.google.com/document/d/15jslAxRYxnrDGvCYqJlJkSJ2MkHlNMo7p9_ygNHISvk/edit
His advice for my first course of action was to click on the link to create a google alert. At this spot you can create a list that will alert google to send you alerts when any of those things is posted or searched on the web.
The links contained in the document will guide you to some advice and even give you some examples as to why your digital footprint should be very important to you as a professional and an educator.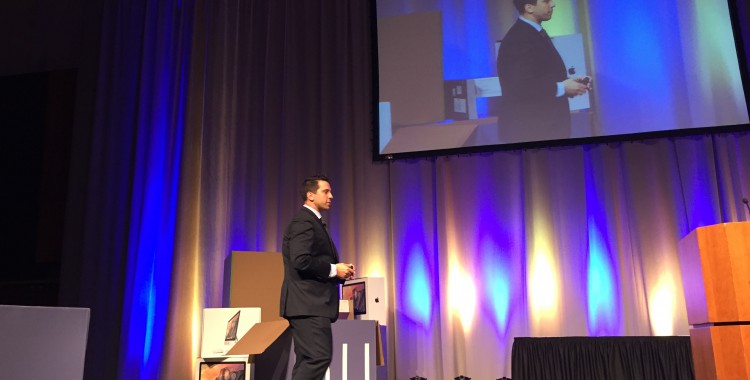 Breanne Parker
Literacy and Technology in PK-3 Classroom
At NETA the presentation  "Literacy and Technology in the PK-3 Classroom" was extremely beneficial.  During the session Maryann Angeroth presented many ways to support and teach literacy using technology in the PK-3 Classroom.  I was excited to learn ways technology can be implemented to help support and provide primary students with opportunities using technology.  Her Google site, listed below, provides many resources primary teachers can use.
https://sites.google.com/a/ghaea.org/instructional-technology-support-by-maryann/literacy-and-technology-pk-3
JoEllyn Anderson
I loved all of Leslie Fisher's sessions. She gave great info regarding taking better photos and videos as well as good app recommendations for iMovies.
AgingBooth probably won't be a good fit for music, but sure was fun!
The Pentatonics in Music was great and I will be requesting "beatwave" app as it could be used in conjunction with our xylophones combining old school with technology!
But the biggest thing I got from NETA this year was the "permission" to not just use technology but to remember the interpersonal relationships and ideas how to integrate that philosophy into my classes. I think this is so different than what we are all afraid our future leaders will be (bound to their devices), so I loved how they encouraged everyone to interact. There is still a place for "old school" even with great new technology!
Thank you for this opportunity – I am anxious to share the wealth of information with my colleagues!
Dede Marshall
Being a part of NETA 2015 was one of the most beneficial staff development opportunities I have had in quite some time. From the amazing keynote speakers to the exciting breakout sessions, I now have so many tools that I can't wait to try in my classroom. Most importantly, the NETA sessions I attended left me energized and excited for teaching. I believe that I am now better equipped to integrate technology in my classroom on a whole new level. It was refreshing to hear from the experts that one of the most important things we can do with technology is to simply get out there and try-that it's okay to make mistakes and that's just part of the process! LOVED being a part of this event!
Justin Presler
Once again NETA delivers! I Laughed, I Cried, and I was given a lot to Think about….and that was after attending the two Keynote speakers. Adam Bellow and George Couros both gave inspiring speeches getting me ramped up for next year and ready to end this year with a bang. For those of you who have a Twitter account I recommend following both @adambellow and @gcouros if you don't already. Anyone without a Twitter account should sign up today and follow both of them as well as hundreds of other educators you can connect with about different topics.
The best way to share what the rest of the conference had to offer is to use one of the ideas presented. The following link is to a Padlet (an online bulletin board) with an entire board of technology tools to add to your tool belt or to get you started. Try something new or add to the board.
In the words of @adambellow "It's not the all the stuff that matters, it's what can be done with the stuff that is really valuable." Take a risk "Failure is not a permanent condition."
"Technology will never replace great teachers, but technology in the hands of great teachers can be transformational." – @gcouros
Katie Sindt
I attended the session on Twitter in the classroom.  I had been completely unfamiliar with Twitter – I don't have an iPhone, and I thought you had to have one in order to use Twitter.  I learned that I can do Twitter through my laptop computer and that it's a wonderful way to communicate with parents, students and the community and that it would be a great way to advertise what I'm doing with students.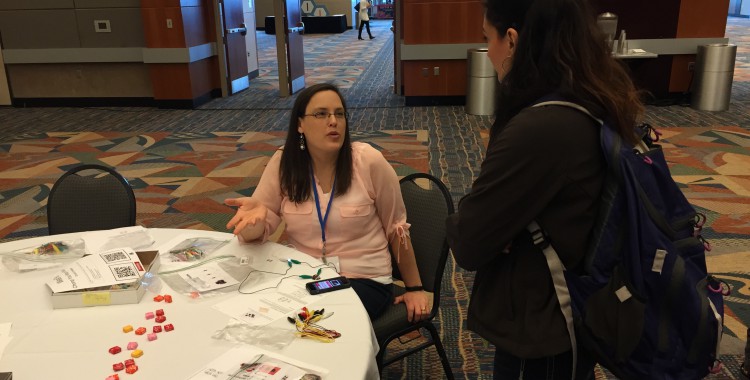 Kelly Hefflin
Embracing YouTube in the Classroom
YouTube has become an invaluable addition to any classroom, and it can be a power tool for learning. During the breakout session called Embracing YouTube in the Classroom, Monica Isabel Martinez, a Google Education Trainer & Certified Administrator shared some of the best ways to use it successfully. Here are a couple programs that will help take the fear out of showing videos:
safeshare.tv This website will strip away the comments, additional videos, and ads away from YouTube. When you visit the website paste the YouTube URL into the box, click take me to the safe view, and voila! This is great to use in the classroom because it takes away all of the unwanted junk. The safe view video will have a new URL that can be shared with students or used to create a QR code.
Turn off the lights- Chrome Extension This Google Chrome add-on designed to "turn off the lights" while watching any type of video. After downloading it, a light bulb will appear on the right hand side of the search bar. With a single click on the lamp button, the page will fade to dark and automatically focus on the video.
The AASL Best Websites…..25 that Rock Each Year!
The American Association of School Librarian's list of best websites is not just for librarians! A list of 25 FREE websites is put together each year and honors websites, tools, and resources of exceptional value to inquiry-based teaching and learning. Here are my favorite picks of the websites:
Media Sharing— Canva and Easelly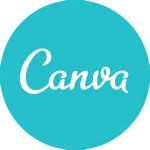 Canva and Easelly both have quickly become the go-to site for users to create eye-catching, informative, and fun graphics on the web. They feature thousands of free templates and design objects which users can customize to create and share their visual ideas online.
Digital Storytelling— FlipsnackFlipsnack online is a great tool for students to use to create stories to share. While creating books, users can customize and upload images and PDFs to create their stories. Check out an example here: http://vanmeterschool.flipsnackedu.com/browse/fu54krbq
Management, Organization and Social Networking— Biblionasium
Biblionasium is a free, protected social network for children ages 6-13 designed to engage, encourage and excite young people about reading. It is similar to Goodreads, but kid friendly and controlled by the teacher. Besides collecting data on reading levels, kids are encouraged to share book recommendations, creating reading logs, and set reading goals. This is something that you will see in both of my libraries next year!
Leon Micek
As I think back to my first Neta conference, I am struck at the timing and impact that it had on me. As the conference approached, I was honestly struggling a bit with students ability to handle the immense responsibilities that technology presents. I have had issues with students and my own children's ideas of what is the best use of their time with an iPad in their hands. My first day I went to two presentations on managing youth with technology in their lives and picked up some ideas to help students make the best choices while setting expectations and limits.
The second day, George Kouros gave a keynote that shattered my perspective of technology and its possibilities. An honest and powerful presentation that engaged the whole room and showed the impact that technology has had in schools and society hit home like a sledge hammer. There is no going back and there's a good reason. It's worth it. Like all new inventions that change the world, the transition won't be easy. With new tools, come new responsibilities. The more we know about them, the better suited we are to adapt and create things that allow us to reach a new level of understanding. Students deserve the chance to pursue the opportunities that are available to them and I am ready to provide the environment and structure to let them learn and explore the world at their fingertips.
Lucas Apfelbeck
Last week, I was able to attend NETA 2015 at the CenturyLink Center in Omaha. This was my first time getting to experience what the Nebraska Educational Technology Association had to offer. At times, the experience was very overwhelming with a multitude of vendors, presenters, and exhibits to select from, but at the same time this experience was very empowering. Adam Bellow (@adambellow), one of the keynote speakers, described how educators need to become more open to implementing and exploring new technology:
"Failure is not a permanent condition. If you fail, own it. If you never drive your new car, you will never scratch it. But then what's the point of having it? Try new things and take risks!"
Technology is an amplifier of students' natural abilities. We cannot be afraid that a student has access to more knowledge than we have in our heads. In the words of George Couros (@gcouros), "We need to be more like dogs." Don't settle for the norm; step outside your comfort zone!
Patty Lusero
As a first timer to NETA, I want to express how impressed I was by the conference. The keynote speakers were excellent; very motivating and inspirational, as well as entertaining. I also felt that there was a wide variety of break-out sessions that would appeal to the wide range of the audience. It was interesting to hear how other schools are adjusting to the 1:1 iPad/Laptop experience.
The EY team also conducted a session on our EY blog and enrichment opportunities that we have created and maintain. I felt that we received a lot of positive feedback, which was affirming to the team. It is obvious that people are struggling with the integration of technology, but are making great strides in how to manage this in the classroom. There is so much out there, it is hard to know how to prioritize what works best for each individual. I think the conference catered to all levels of expertise and I am thankful for that!
I would definitely recommend NETA to other colleagues in the future. It was two days well spent outside the classroom.
Sarah Davenport
Thank you so much for allowing me to attend NETA.
Day 1 I took away the ideas of change is coming and it is ok to fail while transitioning, "Failure is not permanent." This was powerful because I do have a fear of technology not working or trying a new idea and it bombing. I feel when these moments happen, teaching time is lost, but in reality, teaching and learning may only just be started. Bellows was the highlight for day 1 for me. He was motivating and understanding of the teaching world. I think it is important to stress that teachers do need more freedom to feel empowered to take the risks. Time and autonomy are also important factors in letting student lead learning come through.
Day 2, my highlight was the keynote again. Courus was inspirational and since he is Canadian, it makes him extra awesome. I gained many ideas on starting a digital portfolio for my kids. I loved the idea of allowing an innovation week. I think that would be a great end of the year wrap-up of the learning all year. It could be personalized and summarize the student learning that had occurred. "Would you want to spend the whole day in your own classroom?" is the question that will linger in my mind for now on. My eyes are definitely opened wider that I do need to make a change and accept that we do live in a mobile/digital world and to keep kids engagement and desire to learn, classrooms do have to embrace the movement.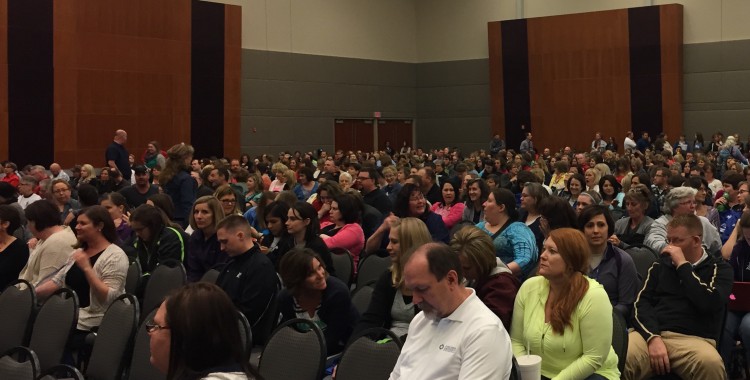 Stacy Crammer
When I first arrived at the NETA conference I felt a little overwhelmed.  I had no idea how many people would be there or how big it was.  However, once I got settled in and realized how things worked, I really enjoyed the conference.  I thought both keynote speakers were great – well spoken and full of interesting and important information.  I enjoyed being able to choose what sessions I wanted to attend, and thought all of the presenters did well.
One takeaway I have from the conference is the website fantasygeopolitics.com.  I have been looking for a different way to incorporate current events into my classroom, and thought this website was a fantastic way to accomplish this.  It works like a fantasy football draft – students draft countries, and the countries earn points based on how many times they are mentioned in the New York Times.  I think this is a great way to get kids interested in what is happening around the world!  This is definitely something I will take from the conference, use in my classroom, and share.
Abby Sualy
I had a great experience attending my first NETA conference! The keynote speakers were amazing, and I went to some very informative, helpful sessions. I found myself typing and writing furiously to document all the wonderful suggestions, ideas, quotes, apps, and resources. Below are some of the quotes I really identified with and that really sum up my NETA experience:
"Actions speak louder than buzzwords."
"Every learner and every teacher need an IEP…where we want to go as a learner andto measure our progress."
"Don't just use technology for technology's sake."
"It's not okay to just consume; we have to create and share as well."
"Don't allow technology to eclipse humanity."
"Be okay with making mistakes, because it is proof you are trying something new."
"Educators need to become the providers of opportunities."
"Kids with mobile devices read and write better because they read and write more."
"Do parents, kids, community members come to your school for the people? Do youcreate an environment and culture that is inviting?"
"What we model digitally is more important than what we say about screen time."
"We must always make sure our teaching does not get in the way of learning."
"Technology will never replace great teachers, but technology in the hands of a greatteacher can be transformational."I purposely went to a couple sessions about parenting and technology (Raising Kids in a Flat Screen World, Get Your Parents Informed). Through my work as an early childhood and elementary school psychologist, I have many parents ask about this topic. I plan to create a handout for parents and possibly develop a parent training that would go more in depth into topics such as appropriate screen time for children, social media guidelines, dangerous apps, laws regarding technology, and other things parents should be aware of. One of the presenters cited some books (Growing Up Social) and websites (commonsensemedia.org) that I plan to explore further.Other helpful sessions I attended include one about using technology with students in preschool-third grade, one about digital differentiation, and one about apps that can be used with English language learners or other students who struggle with language. I plan to share this information with teachers and other school staff I work with to help those students who would benefit from differentiation regarding technology in the classroom.All of the information I learned at NETA will benefit me in my work as a school psychologist, and I feel fortunate that I was able to attend this year. #NETAattendeeforlife 🙂
Tammy Lewis
First of all, thanks so much for the opportunity to attend NETA. I learned so much. Two of the best parts of NETA were both keynote speakers. They truly inspired everyone to be life-changing educators in every aspect not just technology.
On a practical level, I discovered numerous ways to use technology to personalize learning. Already this weekend, I developed numerous center activities which utilize QR codes. I am going to use a QR code to link to the local weather station on my classroom calendar so that students can check the weather daily and use it for decision making. For my language arts toolkit committee, I was imagining how useful QR codes would be to link students to various research videos and websites for their Hoyt research projects. QR codes could even be used for parent communication so that the learning could easily be extended to the home.
Since I could write for hours about the many presentations, I will just summarize with a few more ideas I would like to run with this upcoming school year: green screen movies for reports/readers' theaters, Pear Deck for instruction/active participation, and utilizing Google Classroom more extensively.
Once again, I appreciate the opportunity to attend this motivational, educational conference.
Lynn Spady
Makerspaces, sometimes also referred to as hackerspaces and fablabs are creative, DIY (Do-It-Yourself) spaces where people can gather to create, invent, and learn. I had a BLAST at NETA's Makerspace where I cross-stitched a circuit using LED's and and conductive thread. I also programmed lights to blink by typing in some lines of code. I was totally in my element in the NETA Makerspace and I left with a mission to make this possible for our students at Westside. Shannon Miller's presentation was exactly what I needed to hear in order to make this happen!
Link to Shannon's Presentation:
http://www.slideshare.net/chadmairn/makerspaces-20805799
I could go on and on about the amazing ideas presented in Shannon's session, but the one take-away that I plan to explore is the idea of Maker-bags. Simply put, Maker-bags contain materials for students to create something. It could be Legos, recyclable materials, ANYTHING that allows students to create, invent, and explore. I quickly tweeted Kelly Heflin and Joan Skaggs to see if this is something we could work on together and they were all in! If you're interested in helping or have some ideas, get ahold of me!

Secondary Teacher Reflections
Amy Studts
Google Tour is something that I can implement in geography class.  I'm going to see what the team thinks about adding this instead of mapping after each large group or a culminating project after we talk about each region. Geoguesser and Smartypins were great geography games that I could use with students.
Crystal Bolomperti
EdCamp, edcamp.org – Changing the face of professional development
edpuzzle.com – Use videos from others (e.g. TeacherTube, Khan Academy, TED, etc.) and select a portion of the video, set stop time, inject your own voice with essential info. for your students – If students attempt to scrub (skip) through video, a message will be sent to you.
EduClipper Edu Clipboards – https://educlipper.net/main.html – simple online student clipboards
Emphasis on publishing more than within your class
Sign Generator http://www.redkid.net/generator/sign.php
"If you only lecture in your YouTube video, it could be as boring as in your classroom," explains Aaron Svoboda. Add YouTube Annotations.
Cynthia Royer
Denise DiGiovanni – Digital Differentiation
I learned so much about differentiation in general from her session. It was great to be reminded about simple ways to differentiate for students in my classroom: Content, product or process. I would add environment or audience for that matter. Listening to her snippet from Carol Ann Tomlinson really was a great reminder of what we need to do to make our classroom more challenging for all students. Especially important was to really think about the personalized learning aspect – that we need to differentiate for kids but we need to keep in mind their: Readiness, Interest level and learning profile. In an art room this can be very different among students. Listening to her reminded me of a few things that need to take a more present place in our every day teaching.
I was intrigued by Zaption (www.zaption.com). I think this would be a great tool for lots of teachers in our district. We love to use video in the classroom, but it tends to be a passive learning option. Zaption allows you to interact with the video by asking questions that are embedded in the videos. The zaption tool also allows for you to track the use of your video – data that you can use to see what your kids are doing and when. It is free online – can't wait to see what teachers can do with this engaging video tool!
Dave Shabram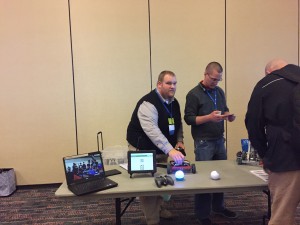 My experience at NETA 2015 started with being a presenter at the poster/playground session. It was amazing to see all the expertise and talent that was on show. The intrigue and willingness to learn something new by the visitors was also great to see and be a part of.
As always, Leslie Fisher's sessions were packed. I attended her session titled "Tools You Can Use Tomorrow." During this session, she showcased a website called Quizizz. Quizizz.com is a multiplayer classroom quiz game, similar to Kahoot. Unlike Kahoot though, students aren't pressured by trying to be the first to answer, instead their success is gauged by their correct answers.
Another session I attended was titled "Is There An App For That." A group of teenagers shared their story of how they took their ideas and became app developers, with eight apps already created and for download on the App Store. Their passion and drive to learn was testament to what our students can really do when driven and guided with encouraging teachers and advisors.
Dawn Nizzi
Be More Dog. Failed Trust Fall. NETA recharged me. The keynote speakers and energetic break out presenters forced me to rethink my teaching "ruts." Exploration and collaboration with my students for ways to make learning come alive through the use of technology are one key to empowering students in their. In light of my work with the Personalized Learning group this year, our access to such great technology has us in a great position to facilitate our students' own learning paths. NETA also reinforced our need for effective communication to collaborate and learn from one another. Building relationships with educators both within and outside our schools and districts is a rich source of learning. Our technology access makes it easy. We have to remember the same goes for our students!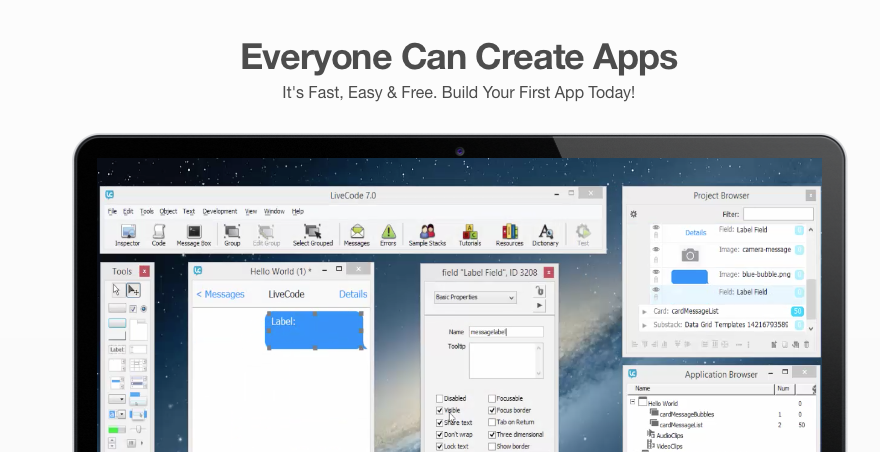 I was also fortunate to lead a presentation at NETA. I shared the LiveCode app building application I worked with in the summer of 2014 on Friday afternoon. Wow! What a great experience! I encourage everyone to really reflect on those awesome things they do in their classroom and propose to share it next year. Your fellow educators are really interested in what you are doing!
Ginger Starks-Yoble
Wow! There was a lot going on. Here are some random thoughts/reflections that I left with from NETA.
I feel like my presentation went VERY smoothly and am pleased to report that my audience consisted of more than WL teachers with about 30 total audience members.
I liked Adam Bellows presentation, but I didn't feel it was as engaging as George C. on Friday. George C. was an awesome presenter and I really felt the message of his presentation. If we all considered the SAMR model and other ways to create meaningful and engaging learning/lessons, hopefully we can avoid stifling our students' potential to engage and learn.
Shannon McClintock Miller provided a lot of interesting website that I hadn't heard of before and I am excited to exlpore them this summer. Some of these include, chromville, flipsnack.edu, flipgrid and canva. Sadly, not all of these sites are free, but I intend to try and effectively integrate the ones that are.
Through other professional networking I also learned about powtoon.com, Make Beliefs Comix and zaption.
Finally, Denise DiGiovanni showed an informative video at the beginning of her session. The person in the video discussed the three ways to differentiate with digital learning–readiness, interest and learning profile.
Theresa Gosnell
Following are quotes from the keynote speakers that we as teachers need to remember:
Adam Bellow:
Failure is not a permanent condition. If you do fail, own it.
Respecting failure helps us embrace curiosity.
George Couros:
To inspire meaningful change, you must make a connection to the heart before you can make a connection to the mind.
Would you want to spend the whole day learning in your own classroom?
To Innovate, disrupt your routine.
There were so many useful tools that I learned at NETA this year.  I tried to pick the things that I would like to use in the future, and that others would benefit from as well.
EdPuzzle – use videos and crop them, add your voice, embed quizzes.
goo.gl/uwm56G – Large amount of Google tools for the classroom.  The tools that I previewed were for YouTube and Classroom Workflow (see the left column towards the bottom.)
safeshare.tv and viewpure.com allow you to just view your YouTube video and not the other random videos that may pop up after you view your video.
video not.es – take notes when things happen in a video and then you can jump to those notes
Incognito Mode is a mode in Google Chrome (File – New Incognito Window) that leave no history.  As soon as you exit out of that window, it deletes all of those cookies.  It is good to use on computers that are not yours such as when traveling.  When planning a trip or shopping online, use incognito mode to get the best deals.
Finally, since I am on the Staff Development Cadre at my school, I went to a session on EdCamp:  Changing the Face of Traditional PD.  This looks like a great option to try at our school and there is an EdCamp Omaha Express on June 13 that I would like to try.
Jeff Grinvalds
I (and 2000 of my closest friends) attended the annual Nebraska Education Technology Association conference which moved to the Century Link Arena in downtown Omaha this year. This year was special for me personally because it was the first year that the Nebraska Writing Project partnered with NETA. This meant that we had 3 presentations and a table. Brenda Larabee of Stuart, June Griffin of UNL, Dan Boster and I all presented. I have to admit that I was preoccupied by both our presentation and helping to get the table set up and keeping it personed throughout the two day conference. Check out my blog to read more about my experiences at NETA15.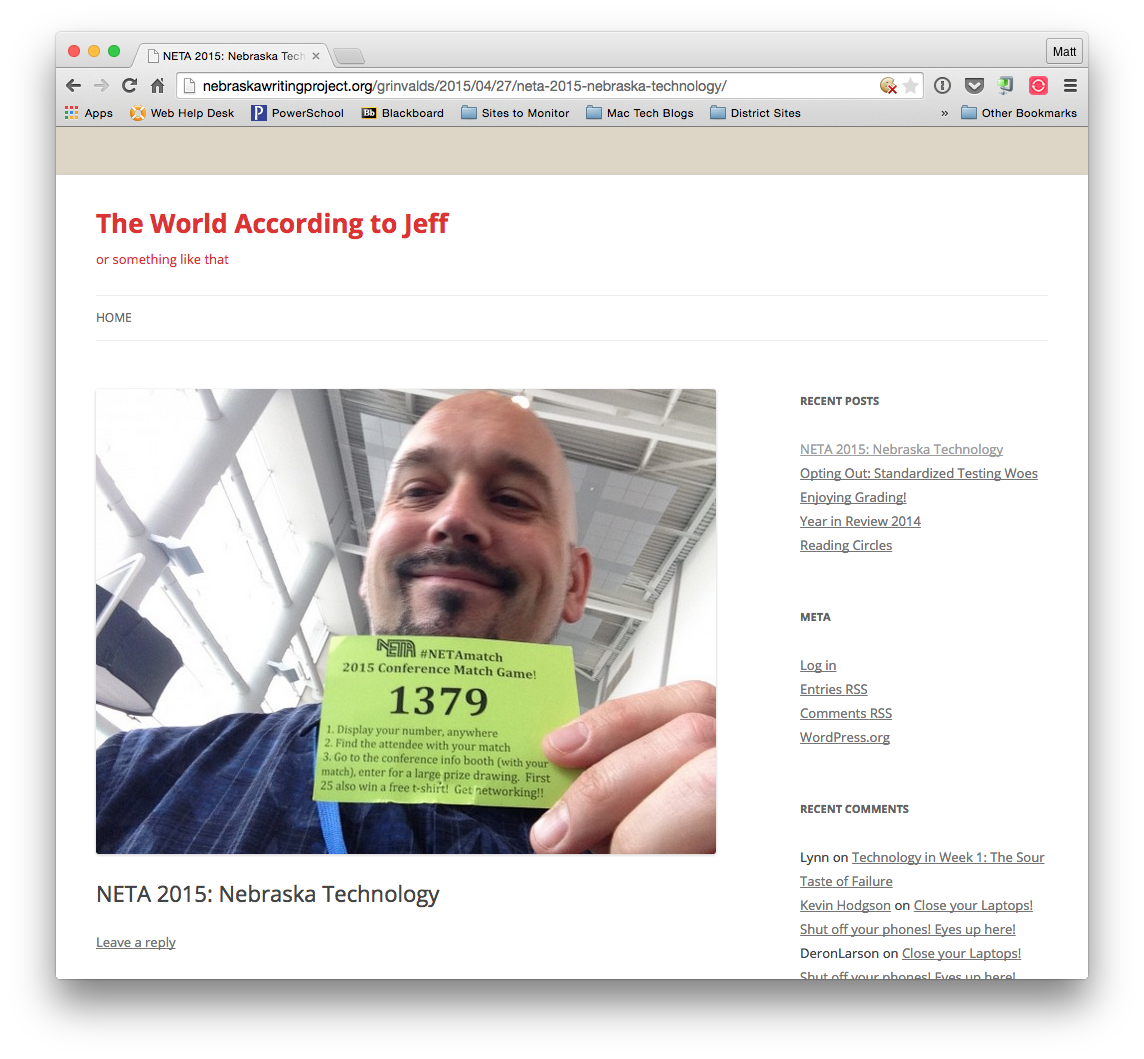 Jeanette Kleppinger
The biggest takeaway from this year was the idea of innovation.  Don't be afraid to try new things and don't be afraid of failure.  In one of the session they coined fail as the First Attempt in Learning.   Adam Bellow talked a lot about failure and it not being a permanent condition.   As classroom teachers it is hard to let go of what we have always done in fear of what might happen.  It left me with a lot of questions about own classroom.  How can we get kids to want to come to class?  Can we make the leap as teams to make Google proof tests?
One session I went to talked about the Google 20% time.  They were hitting all of the learning objectives and become facilitators in the room rather than the controller of information.  Students were excited about their learning and took ownership of it.  Can we give kids choice in their learning and still have them hitting the objectives of the course?  It was clearly shown, that yes you can with the proper structure in place.
The presentation I got the most computer tips from was "30 tips to Electrify Your Classroom."  It had great tips that were easy to use in the classroom or personally to organize yourself. goo.gl/J030Lz
Sydney Kobza
I enjoyed NETA at the Century Link Center.  There was a lot more space in the meeting rooms as well as during the keynotes.  I thought the keynotes were awesome!  I recommend following both George Couros and Adam Bellows on Twitter.  Even after the conference they were tweeting great classroom practices that I was able to use back at school.
I always get great tools and resources from NETA.  This year I got a lot of great tech tools to use to enhance digital literacy.  Google Chrome has some neat extensions that will help students read from the computer more easily.  Visor, Speak, and Clearly were three extensions that I plan to use to help my students with close reading articles and long text on the computer.   I attended some computer programming sessions as well.  These offered great resources for me to help introduce my kids to computer science.  I also left with a great "Arcade Style" day that I am eager to try next year (if time permits this year)!  All in all, I got a lot of great things from NETA.  I shared some of the session resources below.
https://docs.google.com/presentation/d/1aAvyeODnwA0FKqWfnVup0XHewXpZwfJyk7-gxy02dac/mobilepresent?slide=id.g8d726442f_0204
https://sites.google.com/site/monicassites101/lessons
Kristeen Shabram
One session that I attended was "Is There An App for that?" The presenters for this session were a group of students from Papillion LaVista South that started out wanting to know how to program their own iOS apps and turn that desire into a production company that now has nine apps on the App store. I gained a lot of resources during this session that I can pass on to students at WMS that are also interested in programming their own apps. I also have even considered the idea of forming an enrichment club based off the idea that was presented at this session.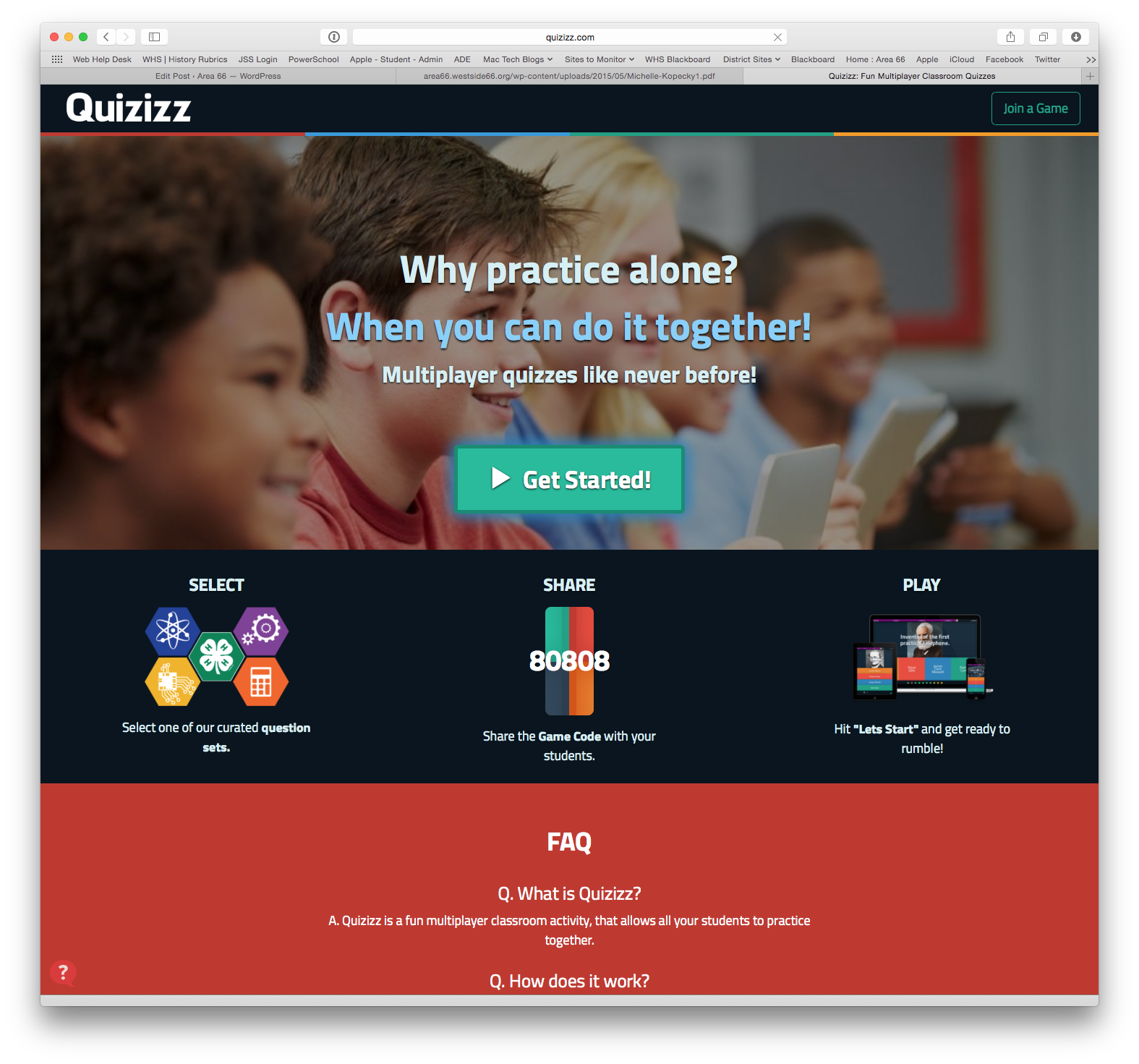 Two resources that Leslie Fisher introduced at her session were Formative (https://goformative.com) and Quizizz (http://quizizz.com). Formative is an online assessment tool that allows teachers to assign questions and then students have to type, draw, or submit images of their work. Awesome resource to have students show their work. Quizizz is similar to Kahoot!. One feature that Quizizz has that ahoot! does not is that you're not restricted to how many characters you can have in a question or answer.
One vendor that really stood out to be was Learning.com. They provide a Digital Citizenship App that provides students with comprehensive instruction on online safety and ethical use of digital resources. The topics cover in this app includes ​Online​ ​S​ afety (i.e. ​d​ igital footprint, risks of revealing personal info online, and ​ ​w ebsite and software privacy tools) ​ and ​Ethical Use of Digital Resources ​ ​ (i.e. ​ i​ ntellectual property, ​c​ opyright, ​ p​ roper accreditation of sources ​,​ ​ and website ​ ​ information validation). ​ I plan to utilize this app next year in the 7th grade Business and Technology course. Another resource that Learning.com provides is an ​ online Digital Literacy curriculum. ​I am still reviewing this resource to see if it would be beneficial to use in my classroom.
Kristen Job
Blendspace – www.blendspace.com
Creating lessons or classes – take a topic, search related videos and drag and drop. Searches many sources online, you can add your own content, add rich text to explain lessons etc. You can track student use within the lesson or class, you can overview their views, their questions and whether or not they have more questions on the content. There are plenty of free lessons and classes already created that you could use tomorrow. You can use this for differentiation, flipped classrooms or for E/I time for elementary kids.
Curriculet – www.curriculet.com
Allows teachers to embed questions, quizzes or media content into literary works. Creates engaging reading assignments for kids. Kids get real time feedback on the questions/quizzes, teachers can track data – who is using, when, how they are doing. Has free classics already, allows for districts to buy cheaper ebooks for more current and timely texts for kids. Also includes poetry units and units organized around USA Today articles and even some non-fiction titles. Again would be great for E/I time or extensions for kids.
Molly Hunt-Spisak
Overall I left NETA feeling great about what I do in my classroom everyday. The keynote speakers were especially good this year and gave me a sort of "pep talk" that all educators deserve near the beginning and end of every school year. The first session that I attended was by Katie Morrow on "Authentic Authoring" and she focused on how to give students the opportunity to write not only for you as their teacher but for their classmates and even the world using both Keynote and iBook Author. The example that she gave that I am going to use with Keynote is having students create "Choose Your Own Adventure" stories using links. She also showed a template that she uses in her classroom for lit circles that I asked if she would share and she pointed me to her blog where I can find the templates already created. I will use these templates in our choice unit next year and have shared them with my department, too. On the second day, George Couros made me both laugh and cry. He reaffirmed what I do as a teacher already and made me think critically about the three things all high school graduates should have: a professional social network, a digital portfolio, and and about me page. Finally, a session on Google TourBuilder is one that I will use in my classroom next week. In the past, I have used Google Earth to create tours with voiceover for a unit I do with my students on Afghanistan. This year I am going to use TourBuilder as it is MUCH easier to navigate and has some really great features that the old Earth did not. I would be happy to talk to anyone who is interested in any of these applications, I would be happy to share how I used them.
Lance Mosier
On April 23rd and April 24th I had the opportunity to attend the Nebraska Educational Technology Association Conference at the Century Link in Omaha Nebraska. I have attended several NETA conferences the past few years and I have always enjoyed this conference. I am sort of a Tech Geek and love using Technology for personal uses as well as with my student's in my classroom. My brain always hurts at the end of the conference because I always get information overload. There are so many tools and websites that come out it is very hard to keep track of them all. See my full reflections by checking out my blog at: http://raidersofhistory.blogspot.com/2015/04/my-neta-2015-takeaways.html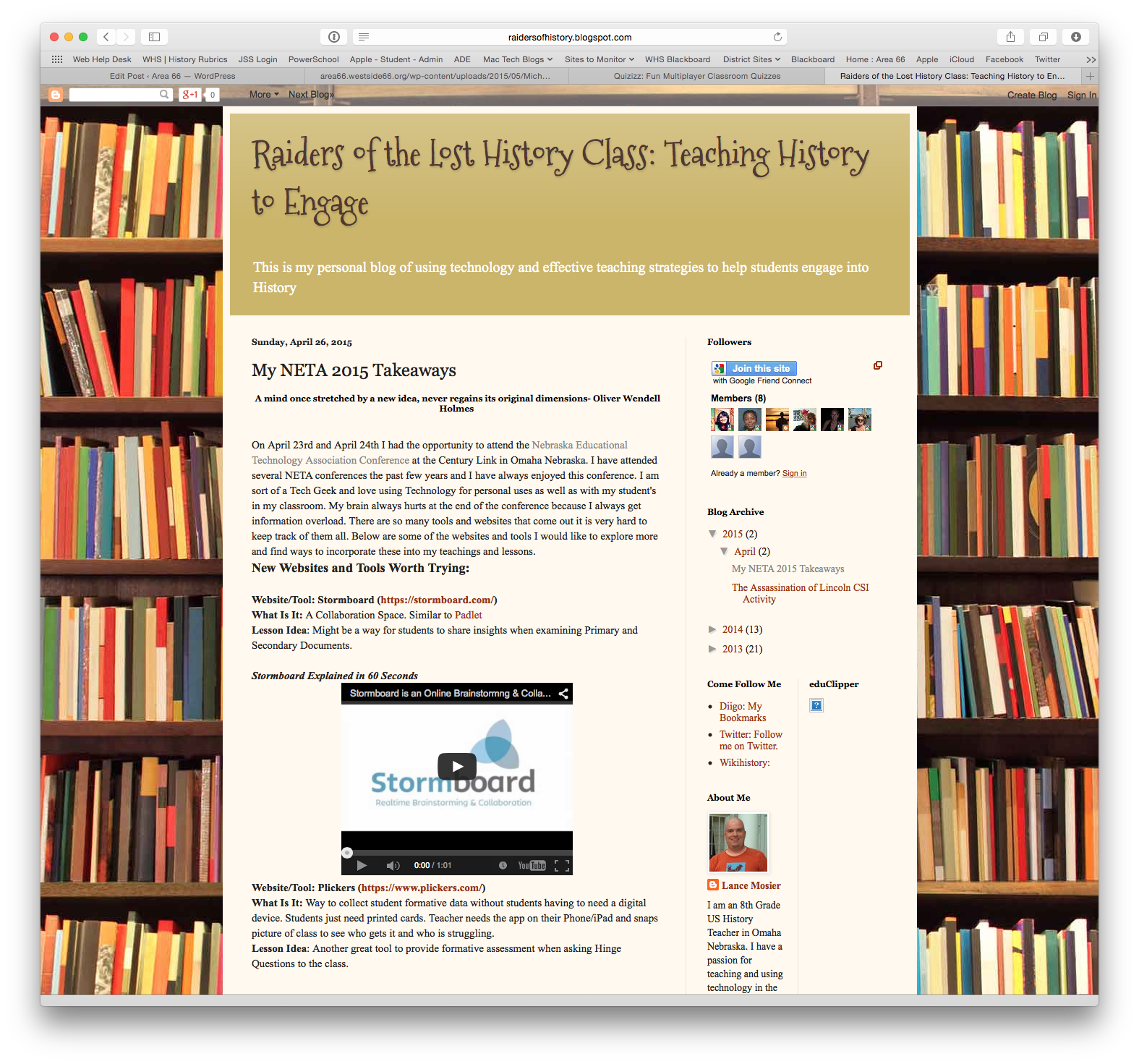 Carrie Turner
Wanting to get some fresh ideas for Sr. Project I went to NETA with specific goals in mind. By Friday afternoon my brain was overflowing!
My favorite thoughts:
George Couros – http://georgecouros.ca/blog/
More and more, colleges and employers are looking online for information about potential students/employees. The 3 things kids should have before graduating from high school to help them with this?
Professional social network
Digital Portfolio: to showcase growth & development through the years
me web page: to discuss who they are – hopes, dreams, aspirations
More gems from this speaker:
If your students can Google the answer to your question, you need to change your question.
Surround yourself with passionate people to keep your passion for teaching ignited.
Don't refer to yourself as "just" a teacher. What you do is far more than the word "just" indicates. Raise the bar when people ask what you do. You are not "just" a teacher! You are far more than that.
The Apps I need to check out:
Plickers
A way to step back from technology every now and then. Using the website, you create a class, enter student names and print out 4-sided cards with a shape on it, each side corresponding to A, B, C, or D. Every student is assigned their own card. For a quick check for understanding, the teacher asks a question with an answer of A, B, C, or D. The students hold up their card with the correct answer on top. Using an iPad or phone, the teacher scans the room with the camera & voila! Instantly knows how many students answered correctly – and who they are!
FlipSnack
Can create flip books with kids
Adobe Slate
Another way (other than iBooks Author) to create eBooks
District Level Teacher Reflections
Amber Doty
I attended my first NETA conference 15 years ago as a sophomore in high school.  I was from a small town that barely had internet access, so to have the opportunity to spend two days surrounded with technology and enthusiasts definitely turned my world slightly on edge.  Last week I had the opportunity to attend NETA again for the first time as an adult.  I have to say that the experience was entertaining, educational, and nostalgic. The keynote speakers spoke of the future of education with an excitement and enthusiasm that moved the crowd to laughter and tears.  I truly believe that those two men sparked the flame that had burned out in many people, and that alone made the conference completely worth it.  However, I also had the opportunity to hear sessions from people who passionately pursue the use of technology in education, learning about what we can expect from Apple in the future and how other districts are utilizing Google products to their advantage.  I listened to other techs as they discussed their successes and missteps.  I tried to absorb as much information as I could but I know there was so much more to learn.   As if these things weren't enough, the networking piece of NETA is incredible.  In two short days I saw teachers from my high school, my previous job, and my current job.  I saw old friends and made new ones.  Overall, there truly aren't words to adequately describe how much I love NETA, or how grateful I am to WCS for allowing me to attend.  I'd absolutely recommend this conference to anyone who was interested in attending.
Melissa Hansen
I attended a session on Evernote, which I plan to use from an administrative stand point to organize my meeting notes and ideas for the CAPS program. I know there are additional features, but as a beginning user these are the features I will use first.
I also attended a session on Connected Administrators. Again this was more of a personal improvement session. IT reinforced the fact that I need to establish a Twitter account as a way to stay current on educational trends. In addition, the Wednesday night chat sessions also sounded like an interesting way to network.
Another session I attended was related to copyright. I attended this this session to find out about property rights especially how it will relate to student produced work for the CAPS program.
The NETA conference helped to expand my tech capabilities.
Beth Welke
NETA 2015 was a great event! The keynote speakers both days were exceptional! I was especially impressed with George Couros! He was a passionate educator who motivated the audience and said so much more than just tech talk in his short time on stage!
Sessions I attended included Accessibility Options in Google. This session showed many Goggle add-ons that can be used to make technology more accessible for all. Now to take some time and mess with them to learn how to share them with teachers in a meaningful way!
I also attended a Professional Development session, a session on Building Your Portfolio on social media and an advanced Twitter session. All had new information that I could put to use while integrating technology as a district leader.
My three big take-aways were quotes from George Couros' session:
1) Kids with mobile devices read and write BETTER because they read and write MORE!
2) Leaders must model technology use before they evaluate teachers in technology!
3) If a kid hugs you never let go first! The kid will hug you as long as they need to!